faculty
Arvind "Rasi" Subramaniam
rasi@fredhutch.org
Fred Hutch
,
Basic Sciences
Biophysical and Structural Biology
Computational Biology
Genetics, Genomics & Evolution
Regulation of mRNA translation in health and disease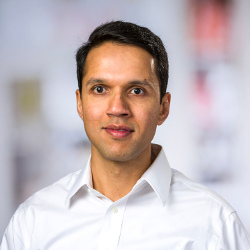 Faculty Contact Information
Building: Weintraub
Room: B3-155
Box: A3-015
Phone: 206-667-4679
Research Summary
Our lab studies regulation of mRNA translation using mammalian cell culture. We combine genomic and biochemical experimental approaches with computational analyses with the goal of understanding and therapeutically targeting mRNA translation.
DEI Statement
I am committed to providing an inclusive and supportive lab environment for pursuing scientific inquiry by all trainees, including those from underrepresented groups in biomedical sciences. To facilitate this process, I tailor my mentoring to address the needs of individual lab members. I particularly enjoy working with trainees from diverse backgrounds to develop their computational skills through hands-on and one-on-one training.
Training Summary
Bias mitigation education: Grounding & Commitment (Fred Hutch)
Accepting Students For:
Rotation, Autumn
Rotation, Spring
Rotation, Winter
Permanent
Lab Information