UW Seattle students have access to a range of mental health and counseling support, including individual counseling, group therapy, workshops and crisis services. In an emergency, always call 911.
If you need counseling or mental health services, call 206-543-1240 or visit https://wellbeing.uw.edu/topic/mental-health/.  All appointments are currently offered via secure Zoom.
They are now offering online scheduling for the initial counseling appointment for new students. If a student has received counseling or mental health services on campus, call 206-543-1240 instead as there may be individual circumstances for mental health services to attend to in scheduling them.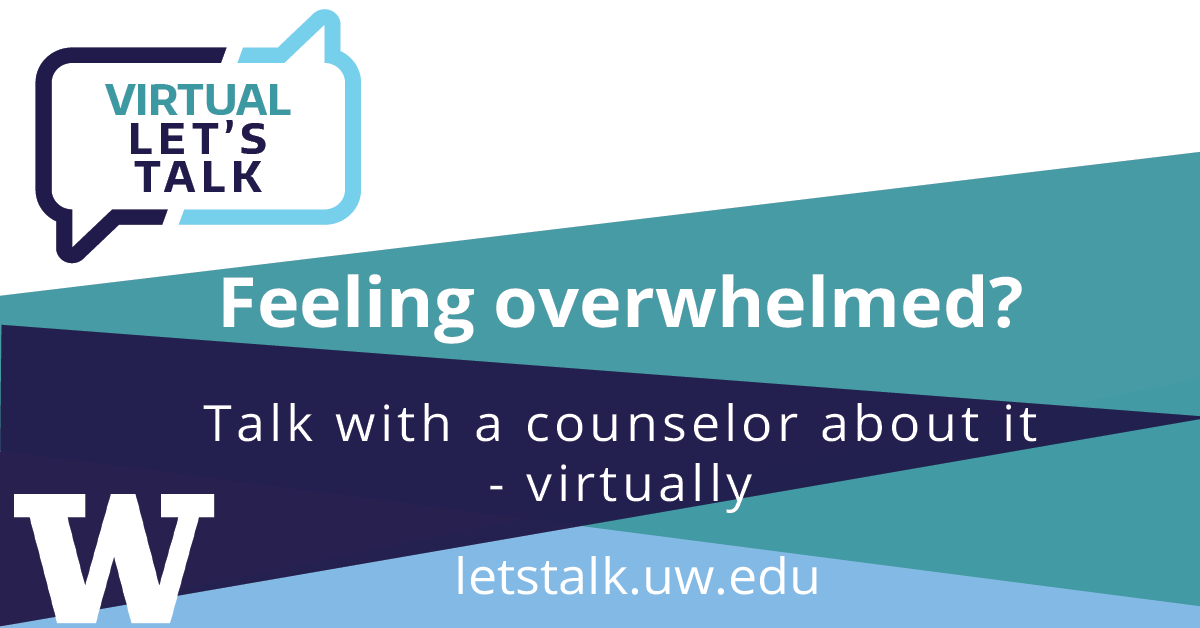 Resources for BIPOC MCB Community Members
The Community Healing Network's Healing in the Face of Racial Trauma toolkit, created by and for people of African ancestry, is available for free download.
Melanin and Mental Health produces the Between Sessions mental health podcast and offers help finding a therapist of color in your community.
The National Queer and Trans Therapist of Color Network has a directory of providers who identify as queer people of color, and offer financial resources for accessing support.
Liberate is a meditation app by and for BIPoC folx. The meditations incorporate social just principals to focus on healing from internalized racism and external systemic racism, microaggressions, and other day-to-day experiences.
Wellness Links:
The Whole U: The Whole U is focused on fostering connection, holistic wellness, and engaging your interests, The Whole U is for UW, by UW. Stay healthy and connected with free virtual mindfulness and fitness classes. Check out our weekly class listing to select from strength training, yoga, dance, meditation, and more!
Mindfulness, yoga and meditation offerings at the IMA and virtually via Zoom. Here you will find information about these group and class offerings, as well as general information about these practices and ways to explore them on your own.