faculty
Alice Berger
ahberger@fredhutch.org
Fred Hutch
,
Human Biology
Cancer Biology
Cell Signaling & Cell/Environment Interactions
Computational Biology
Cancer functional genomics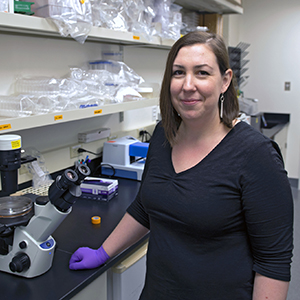 Faculty Contact Information
Research Summary
The goal of the Berger laboratory is to enable precision medicine by systematically uncovering the molecular alterations in cancer, determining the function of these variant alleles, and understanding how these alleles modulate response to targeted or immune-based therapies. We combine functional genomics, computational biology, biochemistry, and genetics to understand the mechanism of somatic cancer variants. Our goal is to identify drug targets and biomarkers and to translate this knowledge into clinical benefit for patients.
Publications
The following publications were retrieved from PubMed:
Accepting Students For:
Rotation, Autumn
Rotation, Spring
Rotation, Summer
Rotation, Winter
Permanent
Lab Information