faculty
Robert Eisenman
eisenman@fredhutch.org
Fred Hutch
Cancer Biology
Cell Signaling & Cell/Environment Interactions
Gene Expression, Cell Cycle & Chromosome Biology
Genetics and genomics of an oncogenic transcription factor network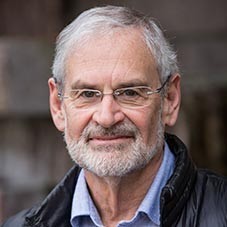 Faculty Contact Information
Building: Weintraub
Room: B2-110
Box: A2-025
Phone: 206-667-4445
Research Summary
Our research is focused on the MYC network: a group of transcription factors that respond to environmental stimuli by broadly modulating cellular gene expression programs. Proteins within the network specifically bind DNA, modify chromatin and comprise a transcriptional switching system that has been conserved throughout evolution. The network is frequently deregulated in a broad spectrum of cancers. We employ the tools of biochemistry and genomics as well as mouse genetics to delineate the oncogenic and tumor suppressive and activities of the network.
DEI Statement
My laboratory is committed to maintaining an open, sharing, inclusive research and training environment for scientists of all backgrounds. I believe it is critical to expand diversity within the biological research community in order to incorporate a broader range of viewpoints and talents that can be brought to bear on overcoming the most difficult challenges facing biomedical research. We seek to create an open environment in which lab members are able to be heard and provided with the tools and opportunities to explore an area of research that they are passionate about.
Training Summary
FredHutch Bias Mitigation Course. Member of Hutch United – participated in meetings with students and postdocs. Training in conflict of interest, security, vertebrate animal care, and ethics.
Publications
The following publications were retrieved from PubMed:
Accepting Students For:
Rotation, Spring
Rotation, Summer
Rotation, Winter
Lab Information
Location: Fred Hutchinson Cancer Research Center