faculty
Maitreya Dunham
maitreya@uw.edu
University of Washington
,
Genome Sciences
Gene Expression, Cell Cycle & Chromosome Biology
Genetics, Genomics & Evolution
Genetic variation in yeast and humans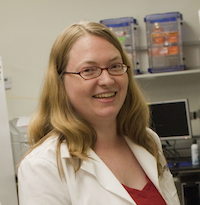 Faculty Contact Information
Research Summary
The Dunham lab develops & applies genomic tools to study genome evolution & genetic variation in yeast & humans. We utilize the budding yeasts as a testbed for technology development & as an experimentally tractable system for evolutionary genetics & genomics. Current projects include understanding the costs & benefits of aneuploidy, building new instruments for continuous culture, functionally characterizing centromeres across species, beer yeast, evolving yeast in a high school teaching lab, & developing high throughput methods for measuring the impact of genetic variation in yeast & humans.
DEI Statement
Clones are for microbiology & molecular genetics, not for the people who do science. I've been fortunate to get to work with so many interesting, talented, smart, & fun students, each of whom has brought something unique to our team thanks to their diverse backgrounds, interests, & personalities.
I also believe that public outreach and education are our responsibility as scientists. I'm proud that people in my lab engage fully both with their research and with outreach, including high school teaching labs, public talks, tutoring, science fairs, & collaborations outside academia.
Training Summary
Entering Mentoring (UW Genome Sciences) – 2022
Building Better Together Workshop (Maize Genetics Cooperation) – 2022
Culturally Aware Mentorship Training, Genome Sciences Faculty training with Greg Taylor and the Lavender Rights Project, Center for Improvement of Mentored Experiences in Research mentor-mentee training, Howard Hughes Medical Institute Laboratory Management Course
Accepting Students For:
Rotation, Spring
Rotation, Winter
Lab Information