faculty
Sue Biggins (she/her)
sbiggins@fredhutch.org
Fred Hutch
,
Basic Sciences
Biophysical and Structural Biology
Cancer Biology
Gene Expression, Cell Cycle & Chromosome Biology
Chromosome Segregation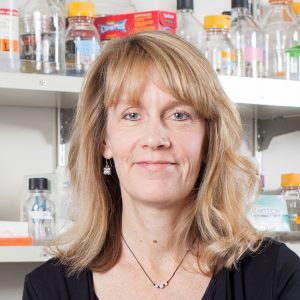 Faculty Contact Information
Research Summary
Aneuploidy is the most common chromosome abnormality in cancers and is the cause of birth defects and other diseases. We therefore study the controls over cell division and chromosome segregation that ensure accurate self-renewal, proliferation and development. We take an interdisciplinary approach that combines biophysical, cell biological, biochemical and genetic techniques to tackle these questions using yeast and human cells as model systems.
DEI Statement
I seek to ensure a diverse and supportive lab environment where the opinions and perspectives of all lab members are respected and valued. I believe an inclusive and safe environment promotes scientific creativity and progress and we strive to maintain this culture. In addition to promoting diversity and inclusion in the lab, I am committed to this at the institutional level as well. I am a member of the Executive committee for the Office of DEI and I am the Executive Sponsor for Hutch United, a community that fosters a supportive and inclusive community for underrepresented scientists.
Training Summary
2018: Government to Government training to improve cultural awareness and further relationships with WA state's federally recognized tribes
2020: University of Wisconsin CIMER training on Culturally Aware Mentoring
2021-2022: HHMI Gilliam Advisor mentorship training program; this is a year long serives of activities aimed at development of mentorship skills
Publications
The following publications were retrieved from PubMed:
Accepting Students For:
Rotation, Autumn
Rotation, Spring
Rotation, Summer
Rotation, Winter
Permanent
Lab Information