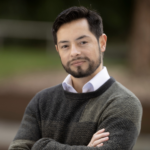 Oscar Vivas
University of Washington
| Pharmacology

- Biophysical and Structural Biology

- Cell Signaling & Cell/Environment Interactions

- Developmental Biology, Stem Cells & Aging

- Neuroscience

Autonomic neuroscience, cardiovascular neural control, and aging. We use a multi-level approach to understand cellular physiology, membrane biology, and ion channel biophysics. Always excited for novel discoveries.
---
vivas@uw.edu
206-543-0958
---
Is this lab accepting permanent students? Yes
Is this lab accepting rotation students? Yes
---
Diversity, Equity, and Inclusion Statement
I am a first-generation college student from Colombia. I am also a father of a young girl and the husband of an excellent scientist. I have experienced first-hand many socio-economic and racial barriers to reaching my dream of becoming a scientist. I am aware that to keep moving forward, I will have to face many more. That awareness and individual experiences boost me to connect personally with trainees from underrepresented groups. I am committed to helping interns, grad students, and postdocs from underrepresented groups learn about the steps, requirements, and common expectations to achieve high standards in science while we work to help the system adapt to diverse groups.