student
Stephan Raiders
sraiders@uw.edu
Fred Hutch
,
Basic Sciences
Cell Signaling & Cell/Environment Interactions
Developmental Biology, Stem Cells & Aging
Genetics, Genomics & Evolution
Entry Quarter: Autumn 2017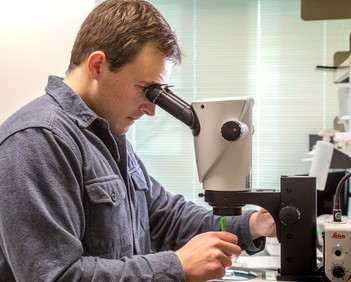 Publications
The following publications were retrieved from PubMed:
Research Summary
Neurons have their shape and function regulated through interactions with their underlying supportive cells, called glia. Glia engulf fragments of neurons to maintain neuron protein homeostasis or to contribute to the elimination of synapses during the developmental process of pruning and emerging evidence suggests that defective regulation of glial engulfment contributes to diseases such as Alzheimer's or Parkinson's. Despite this, little is known about the regulatory mechanisms of glial engulfment and so I propose to interrogate the regulatory function of a Parkinson's Disease associated protein, Parkin, in glial engulfment.
Lab Information
Rotation Labs