faculty
Emily Hatch
ehatch@fredhutch.org
Fred Hutch
,
Basic Sciences
Cancer Biology
Gene Expression, Cell Cycle & Chromosome Biology
(Area Director)
Nuclear membrane dynamics in mammalian cells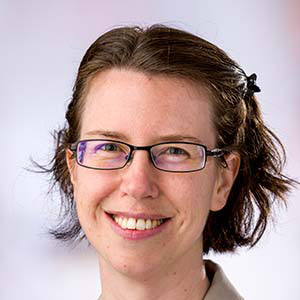 Faculty Contact Information
Building: Weintraub
Room: B2-155
Box: A2-025
Phone: 206-667-5116
Research Summary
We are at the beginning of redefining the nuclear envelope as a dynamic structure and determining how defects in nuclear envelope stability impact cell function. My lab uses a combination of cell biology, biochemistry, and genomics tools to address the following questions: 1) What are the mechanisms that drive nuclear envelope remodeling and dynamics? and 2) What are the consequences of losing nucleus compartmentalization at the cellular level and how does this contribute to cancer progression?
DEI Statement
Increased diversity in race, ethnicity, sexual orientation, nationality, gender, along with a commitment to accessibility are critical to enrich and accelerate the work being done in our lab and our scientific community. Along with her team, Dr. Hatch is committed to affirming and protecting the rights of everyone in the lab to a safe and supportive work environment. As part of this commitment, Dr. Hatch believes in mentoring lab members to achieve their best work and their unique professional goals, in addition to furthering scientific progress in the lab.
Training Summary
Transforming Conflict into Collaboration workshop: practical training for having difficult conversations and resolving conflict (AAMC) – 2021
Culturally Aware Mentoring: explored how one's cultural heritage impacts mentoring (University of Wisconsin CIMER) – 2020
Optimizing Research Mentoring Relationships: practical training for effective mentoring including aligning expectations, fostering independence, and promoting diversity (University of Wisconsin CIMER) – 2019
Accepting Students For:
Rotation, Autumn
Rotation, Spring
Rotation, Summer
Rotation, Winter
Permanent
Lab Information