faculty
Ajai Dandekar
dandekar@uw.edu
University of Washington
,
Microbiology
Microbiology, Infection & Immunity
Quorum sensing and sociomicrobiology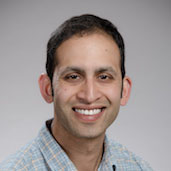 Faculty Contact Information
Building: K-wing, health sciences building
Room: K-359
Box: 356522
Phone: 206-685-8551
Research Summary
My lab studies quorum sensing, a cell-cell communication system of bacteria. We are primarily interested in Pseudomonas aeruginosa, an opportunistic human pathogen. We study the adaptation and evolution of quorum sensing as it pertains to social behaviors, such as cooperation. We are also interested in remodeling of quorum sensing networks in chronic infections.
Accepting Students For:
Rotation, Spring
Rotation, Summer
Rotation, Winter
Lab Information